Fans of spiritual niches have come across the name Zachary Bagans or Zak Bagans a few times in their lives. Zak is a famous American TV personality famous for his lead role in the TV series Ghost Adventures. The star showcases his ability and knowledge about dark magic in the late-night TV show.
Apart from being an investigator of paranormal stuff, author, and museum owner, Zak is also a tv actor and producer. So far, Zak's popularity has risen by showing his talent in front of the camera.
Zak Bagans TV Shows
Ghost Adventures
View this post on Instagram
Zak Bagans's most recent TV appearance includes his show Ghost Adventures. Zak and his team, including Nick Groff and Aaron Goodwin, get calls to study paranormal activities on various abandoned locations. The show's presentation involves Zak investigating places and hunting ghosts which is available on the Travel channel. Furthermore, Zak's TV show is seeing daylight as it has been active since 2008 and over 17 seasons as of 2021.
Deadly Possessions
The host of Deadly Possessions is Zak himself, who adds macabre objects to his museum collection by traveling around the world. These items that Zak accumulates show evidence about the existence of supernatural things on Earth. Furthermore, Zak interviews the items' previous owners about their terrorizing experience during its possession.
Paranormal Challenge
This show was Zak's first-ever TV appearance in 2011. Paranormal Challenge consisted of two amateur supernatural hunters, Zak, showing their skill to prove their might.
Zak Bagans was the lead investigator and host of the show who displays the team's results.
Best Places I've Ever Been
This show is an unusual one for Zak as it doesn't show anything paranormal. It is a joint show with Travel channel's different show hosts discusses their favorite places to the world.
Others
Zak's other paranormal shows include Demon House: The Lost Footage, aired in 2019, and Help! My House Is Haunted aired in 2018.
Zak Bagans Net Worth & Income Sources
Zak Bagans makes most of his wealth is a popular tv personality. Moreover, the Ghost Adventures star went from rags to riches over few decades thanks to his ever-so-popular TV shows in America.
Along with the TV shows, Zak also makes hefty profits from his museum operation and published books.
With popular documentaries, stories, books, and merchandise, Zak Bagans has an estimated net worth of $35 million as of 2021. Furthermore, Zak yearly earns about $1.5 million or, in other words, $125 thousand as a monthly paycheck.
House & Cars
As the TV personality now has a large fortune and bank balance in his name, Zak spends it lavishly by buying cars and affording houses worth millions of dollars.
Reports show that Zak loves adding Lamborghinis into his car collection. So far, the 44-year-old Zak has three sets of Lamborghini's, including Gallardo, Aventador, and a recent Huracan model. Furthermore, Zak's collection also includes Ferraris and Aston Martins.
That's not all, as Zak's most comforting drive is his Mercedes-Benz of 2015 model. All of his cars are filled with luxurious interiors, and features include various high-technology aspects.
Nonetheless, Zak's vehicle collection is alone said to be worth $2 million.
As for Zak's house, he lives in a $2 million home in Nevada of LA. Furthermore, Zak paid $1,888,888 upfront for the Los Angeles Mansion and owned a haunted house as well.
Most of Zak's houses are embellished with decorations consisting of notorious pieces and expensive arts.
Zak Bagans Age
Zachary Bagnas turned 44 in 2021 after celebrating his birthday on 5th April 1977.
Tattoos and Meaning
Due to Zak's deep passion for paranormal things, much inspiration came from his work which he has kept as tattoos.
Zak has a tattoo on the back of his neck that represents a battle between gods and demons. The inspiration for this ink came from his investigation on Poveglia Island from Italy.
Similarly, Zak has his right index finger inked as well. The tattoo has a cross symbol representing Axis Mundi which means where everything revolves around the center of the universe.
Furthermore, Zak has a Celtic cross in his right arm, signifying the interaction of divine energies. Also, Zak has an Aries symbol inked in his right arm for Zak to portray himself as an independent guy. There is a Dracula cross on Zak's wrist, showing two dragons guarding each other's back.
Lastly, the paranormal investigator has a German quote tattoo on his inner arm. The quote belongs to Bram Stoker's Dracula novel that says: Denn die Toten Reiten Schnell. The selection translates to for the dead travel fast. Its meaning implies breaking the boundary of life and death by the acquired physical laws of motion with metaphysical identity. Furthermore, it also means that one doesn't need to be dead to achieve such a feat. Likewise, the German quote also has a tattoo of number 11 as an apology to a female spirit he was investigating at Silver Queen Hotel in Virginia City.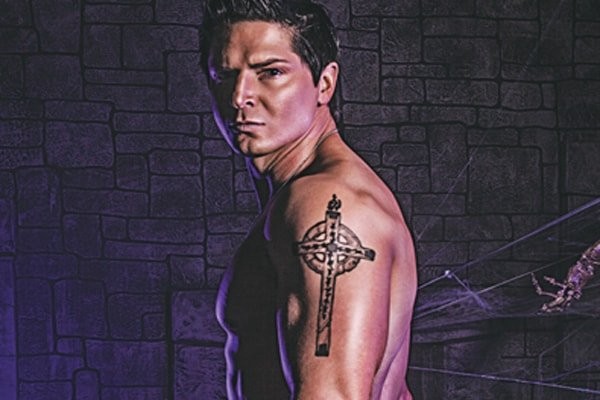 How Tall is Zak Bagans?
Sources believe Zak Bagnas to be standing at the height of 5 feet 11 inches, weighing 80 Kilograms.
Book
As well as being a TV host, Zak has also co-published a book with Kelly Crigger, an author. The book has the title Dark World ($9.97). Furthermore, Zak's co-authored book had a high grossing rate on The New York Times Best Seller's top 20 list.
Similarly, Zak's most recent book was called Ghost-Hunting For Dummies at the end of 2019 ($20.02). The book consists of Bagans' history with ghost-hunting. Furthermore, it accounts for true stories relating to cases Bagnas had to investigate. Most importantly, Zak's book also has advice for paranormal beginners to start their journey correctly.
Zak's other books also include Darkness Optional, which concerns the meaning of god, fear, love, and other evil myths. Similarly, Zak's book I Am Haunted looks at Zak's journey searching for the truth about different supernatural events, the afterlife, and other deep mysteries.
Wife/Girlfriend & Dating Life
Holly Maddison
As of 2021, Zak has never been into a marital relationship. However, he was once hooked up with another TV personality, Holly Maddison.
Holly Maddison is an American model and has had an appearance in the TV show Girls Next Door. Similarly, Holly is also famous for her work in Holly's World.
Zak and Holly had their first interaction a couple of years ago before going on a date. While it may not be confirmed but Zak and Holly began seeing each other in May 2019. Things were sparking between them when Holly visited Zak at his Haunted Museum in Las Vegas in the U.S.
Holly was a divorced mother of two children when she met Zak. Similarly, Zak and Holly never rushed their relationship, but it eventually came to an end. Neither Zak nor Holly share much with the public throughout their relationship.
Breakup
Reports suggest that Zak and Holly's love ended in 2021 after dating for two years only. Sources claim that Holly and Zak had their breakup in February of 2021 due to unforeseen reasons.
Nonetheless, Holly and Zak still are on good terms and bear no ill feelings for one another.
Christine Dolce
Other than Holly, Zak's previous relationships include Christine Dolce, an online influencer. Sadly, Zak and Christine didn't get to stay together as she passed away after February 2017 due to liver disease. Zak had even reacted to the news and shared his condolence on the death of Christine Dolce on social media.
Zak Bagans Children
Zak has been keeping his public status to the lowest as possible in terms of his private life. But there are rumors that Zak is the father of four children namely Alexis, Tiffany, Lexis, and Carlson. Bagan's oldest daughter is Alexandra Rosa Bagans who was born on the 15th April 1993. Alexandra or Alexis spends time writing about herself and her family in quotev and it came to light that she used to have a job as Starbuck's waitress.
The same website also revealed that Zak's other child Carlson was seven when his mother died and had to live with his aunt and uncle. The whole story seems as if Zak has children who he keeps in the shadow but is trying to find him one way or another.
Gay Rumors
As Zak's public appearances consist of being with a group of men rather than girls, fans speculate about Zak's sexuality. After splitting with Holly, Zak has not been actively seeking love either. However, Zak soon declined such rumors after someone on Twitter said he was gay.
Zak Bagans Weight Loss
After posting a picture of himself in early 2019, one follower was too curious to ask about Zak's physique. Zak then later confirmed that he has been doing plenty of cardio exercises and diet. Some claimed that Zak dealt with a medical condition, but he tweeted that getting thin does not always mean dying.
Regardless, there are guessing that Zak may have lost about seven pounds of weight.
Nose Jobs
Speaking of Zak's appearance, his face has changed a little due to his nose surgery. Changing the nose structure was important as Zak had trouble breathing. Hence, Zak underwent surgery to fix his septums. Zak has surgically repaired septums, but he asked the doctors to give him a new nose shape. Although Zak's fans couldn't tell the significant difference about his face, he confirmed it on Twitter.