When it comes to paranormal activities, the name Amy Allan never fails to show up in the scene. Amy Allan is a TV personality famous for her long history with supernatural stuff.
The native American from Denver, Colorado, is now 48 years old as of 2021. Furthermore, Amy was raised in a family that is familiar with psychic theories and other unnatural theories. Due to such a childhood environment, Amy quickly found interest in ghost hunting. Not only that, but Amy found a spot in the TV show Dead Files, where Amy showcases her investigating on weird and creepy activities.
Years of experience as a paranormal investigator have made Amy a top-tier professional in this field. The success of her show alone has helped Amy garnish fans all across the U.S. But whether or not Amy Allan has found similar success in her married life is the topic of discussion.
Amy Allan's Marriage and Divorce from Ex-Husband Matthew Anderson
Amy Allan was previously in a marital relationship with Matthew Anderson. Fans may recognize Matthew as Amy's assistant in Dead Files. Matthew and Amy's relationship first began during their college days at Arizona University. Amy and Matthew were initially friends in college, but slowly, things were sparking between them.
After a couple of years of dating, Amy called for the wedding bells with Matthew in 2011. It was the same year when Matthew recently took up the job in Dead Files with his wife.
Though the fans see Amy and Matthew together on set till this date, their marriage has long been over. After only two years of their marriage, in 2013, the Dead Files duo stars split up. In Amy's divorce files, she stated that her divorce was due to ideological differences.
Some rumors claim that Amy was in a relationship with her another man while being with Matthew. However, Amy Allan has never addressed these buzzes. Regardless, Amy and Mattew still share the same stage as they did before. The former Anderson couple is still on good terms with one another. Additionally, Amy and Matthew work well in operating the show generally as they did before.
Who is Matthew Anderson?
Matthew Anderson was one of the show's longest cast members. Fans can still see Matthew on TV visiting the investigation scene before Amy does her thing. Additionally, Matthew's research on the setting is to eliminate any obstacles that might be in the way of Amy's communication. Matthew's role is vital in the show as he is solely responsible if Amy fails to pick up anything. But the best thing is that Matthew has not failed her even after doing over 110 episodes.
As of now, Matthew has quit Dead Files and went to chase his childhood interest. Matthew is currently the official Repercussion Comics writer, something that he had his eyes set on since his early young days. Along with being the creator and co-writer working at The Repercussionists Comic Book, Matthew's entrepreneurial success includes owning EMMA enterprises.
Reports have it that Matthew is currently dating Jill Murelli and living together in Denver, Colorado when Matthew had his divorce in 2013.
Amy Allan is Now Married to Rob Traegler
Just like Matthew, Amy met her new love following her divorce. But the ironic thing is that Amy's second marriage was with none other than Dead Files producer and director, Rob Traegler. Rob Traegler is the current husband of Amy Allan. Since Amy married Rob, fans began speculating that she might have cheated on Matthew with Rob.
Regardless, Amy and Rob are no strangers to one another as they have worked for numerous seasons.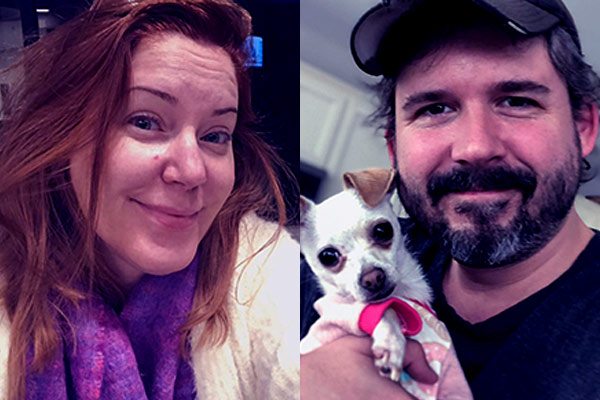 Rob Traegler is a famous American TV actor and film and shows director. The Hamilton native is now 49 years old and happily staying with Amy. Rob's rise to prominence in the TV industry came in 2005 as a production assistant for Dr. Phil's show. Rob's famous works include projects like The Dead Files, Pretty Hurts, and Mysteries & Scandals.
After dating since 2013, Rob and Amy finally walked down the aisle together in October of 2018. Only families related to Rob and Amy attended their wedding ceremony in October 2018.
Children
Amy is yet to have any children with Rob. Moreover, Amy neither has any child with her ex-spouse Matthew Anderson. The 48-year-old actress has not revealed any pregnancy news on her social media platforms as of 2021.
Fans are eager to see mini-Amy as Amy is nearly approaching the age she can't bear any children. As of now, it is doubtful to see Amy become a mother as she is soon turning 49 years old, which is borderline childbearing age.
Similarly, Amy seems happy as a fur mom to six pets, including cats and dogs. On the other hand, Amy's husband Rob appears to have a daughter as he revealed himself holding a child named Adrianna Despina Martino in 2013.